Mattentaarten & frietjes.
Challenge Geraardsbergen race report
I love Belgium.
Admittedly, I'm kinda obliged to feel this way thanks to the sanctity of my wedding vows and all, but I think it's a pretty dope (and highly underrated) place all the same. The food is great, whether fine dining or filthy eating (frietjes - enough said!), the cities - Gent and Antwerp in particular - are buzzing, and the people are warm, genuine, self-deprecating, down to earth and just the right side of blunt. So when I was handed a flyer about the first edition of Challenge Geraardsbergen during the pasta party for The Championship, I couldn't help but a) take the opportunity to roll out my rather 'conversational' (aka borderline understandable) Dutch with the poor race organiser; and b) get on the phone to Wouter and Will to see if we could fit it into the calendar.
As it turned out, not one but two of Team Bracegirdle-Moerloose ended up entering Challenge Geraardsbergen a couple of days later, with Wouter signing up for his first triathlon (talk about a baptism of fire - no easing his way in with a sprint distance event!), and me signing up for a 'strong brick session'. The month passed quickly in a flurry of last-minute kit purchases, and before we knew it we'd bought a camper van (!) for the occasion and were mucking about in the warmup area at Provinciaal Domein de Gavers.
I do love me a beach start. There's nothing quite like a mad dash towards the water for making you feel invincible…before efficiently delivering you straight into the anaerobic zone after 50 metres. With my navigational skills I was a little concerned to find myself in clear water after a couple of strokes, but it turned out I was in for a solo swim and so my focus quickly shifted to getting my heart rate firmly back into the slow-twitch zone.
After a lonely 28 minutes in the water, I emerged to find that the infamous Belgian summer rain had decided to grace us with it's presence. The first lap on the bike was drizzly but manageable, and despite a lot of wheel-spinning on the cobbles I made it up the Muur without too much drama. However, the Vlaamse Ardennen still had more weather to give, and the excitement of another 45 km lap was further heightened by torrential rain and a sprinkling of hail. With the arrival of the latter my bike tactics firmly switched into survival mode, and I spent the final hour or so clinging on for dear life every time I rounded a corner or rolled down a hill.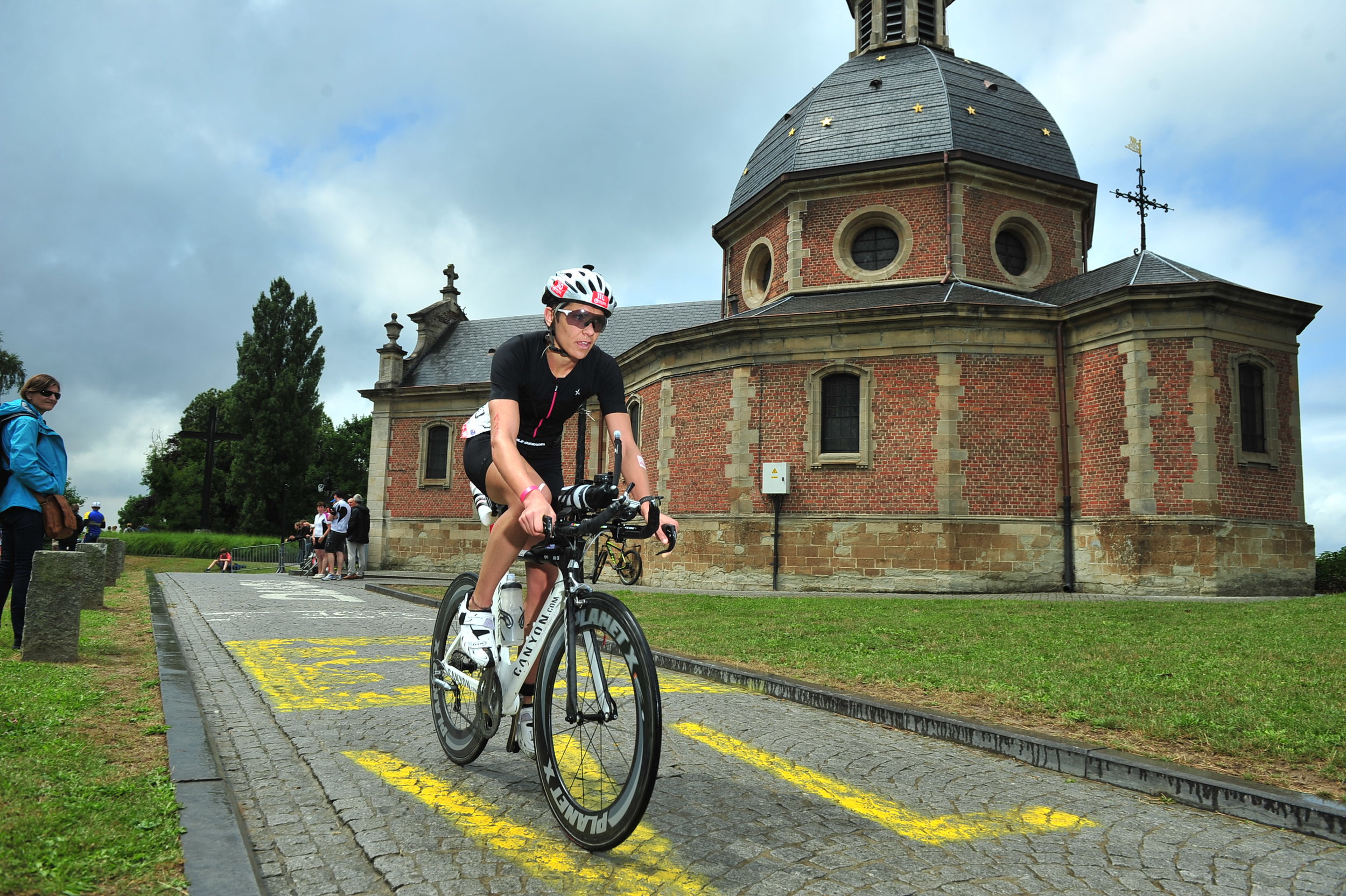 Thankfully, the sun had emerged by the time I reached the foot of the Muur for the second time, but of course one lap of cobble experience counted for nothing and I hit the deck hard on the steepest part of the climb (with a few choice profanities for added colour). A very welcome push had me back on my bike and rolling before our wonderful friends and family cheer squad could see, and the remaining 5-odd kilometres to T2 passed without incident.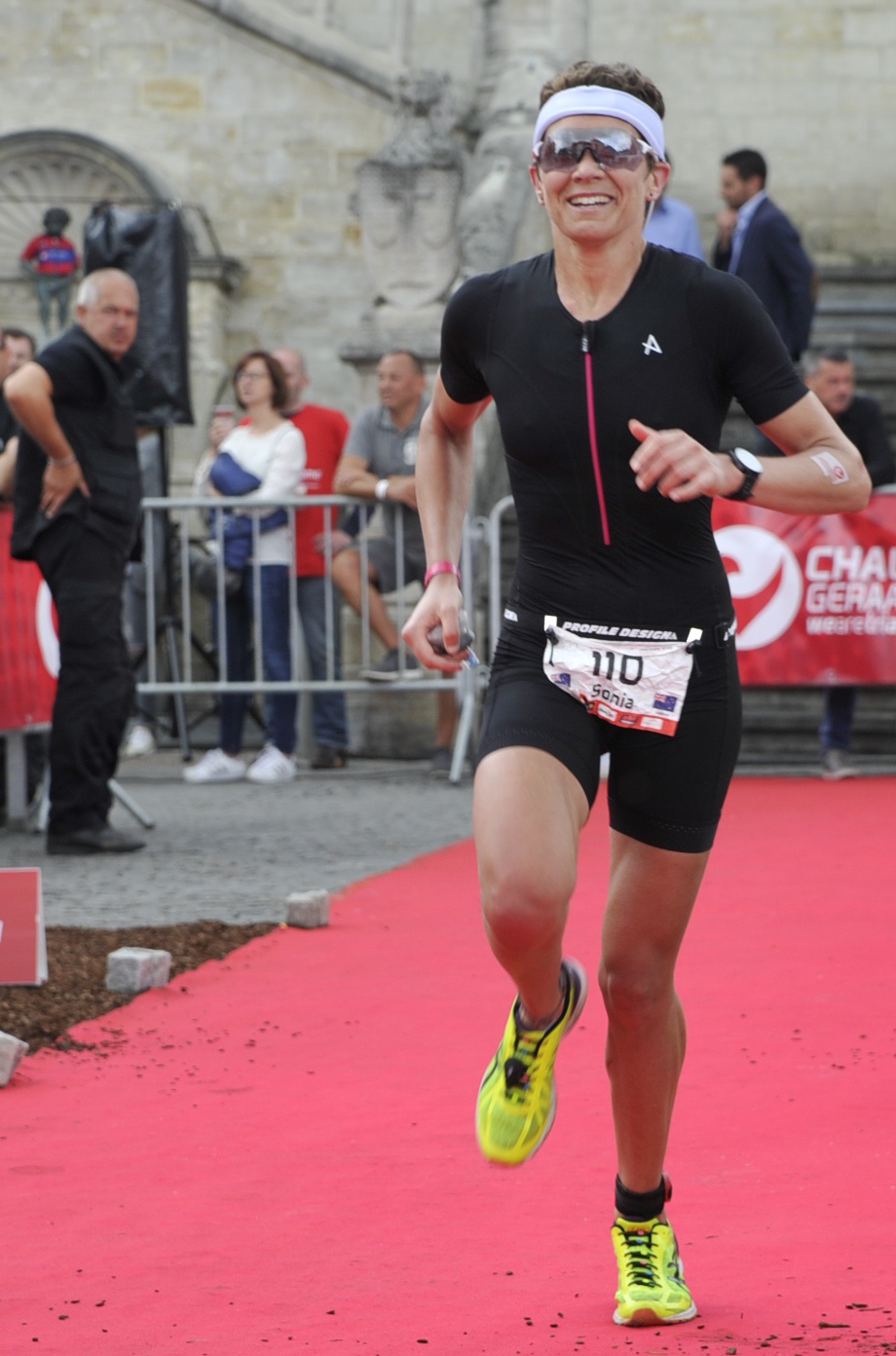 A rolling run followed the rolling bike course, with a horrendous 200 m section of pavement at 15% gradient keeping things interesting…four times over. After being pretty well-behaved with my nutrition on the bike I felt full of beans, so I flipped my cap backwards (yep…) and focused on keeping my cadence up. A couple of pro athletes up ahead provided the motivation to keep pushing, as did the best cheer squad this side of Brussels.
After a challenging run in Samorin I was very happy to finish the half in 1:25, with the second-fastest run split of the day (behind the first female pro, Tine Deckers). Best of all, I got to stuff my face with a world-famous-in-Belgium Geraardsbergse Mattentaart while cheering my better half home…and then followed that up with a second Mattentaart and a pile of frietjes. Wouter proved (yet again!) that he's a not-so-secret endurance junkie in disguise, having nailed his first half-ironman after only a month of preparation.
Overall, my first race on 'home' soil couldn't have been better, with enormous thanks due to our friends and family who braved the weather (aka 'four seasons in one day') to cheer us on. I'm happy that I managed to learn from at least a few of my mistakes at The Championship (namely the nutrition side of things)…and super pleased to have scored my very own Flemish cobblestone for the trophy collection. Onwards and upwards!