Too hot to handle.
Challenge Championship Race Report
A lot has changed in triathlon over the last 15 years.
Aside from a brief flirtation with a not-quite-half-distance race in 2011, Challenge Samorin was my first foray back into swimbikerun since the New Zealand National Championships in March 2003. Back then Roth had just become the very first Challenge event, and the newest 'brand' in long-distance triathlon racing was a long way from the Family's current incarnation - 44 full and half distance events in 26 countries, and a solid Challenger (pun intended!) to the dominance of Ironman.
The Championship - a half-distance event held in Samorin, Slovakia - was billed as Challenge's very own 'world champs', and could be seen as another strategic move to build the competitiveness of the brand even further. Just like the 70.3 Worlds, The Championship required qualification from another Challenge Family event, with the pro field being stacked by a solid prize pool of €150,000 (and likely a few juicy appearance fees as well…). So all in all this race wasn't exactly the low-key start to my 'second triathlon career' that I initially envisaged...but thanks to the generosity of the HUUB team I was gifted a sponsor spot on the start line, and I just can't say no to a freebie!
Self-sabotage is a bizarre and un-understandable concept.
In the five months of training I did leading up to this event I had plenty of time to a) buy a trisuit; b) test my race nutrition; and c) ride my TT bike outside. Instead, I found myself desperately hoping that Cycle Republic in Kings Cross had a non-pink trisuit in my size the night before I was due to fly out (they didn't), that the squished date bars we had in the cupboard would be a viable source of on-the-bike calories (they were - kind of), and that there wouldn't be any crosswinds to mess with my deep-section wheels (there weren't - thankfully!). The days and nights leading up to the race brought more and more questions that I could have easily answered in advance of the race - what am I supposed to do with all these different transition bags? What do I eat the night before…and on race morning? Why would I need salt tabs? What's P20 (when not sounding like a tax form)?
Still, despite all these avoidable pre-race stresses (and unavoidable - thanks cheap-ass car rental company for closing down your office the day before my arrival, and thanks right-hand power pedal for deciding to fall out the day before the race), I managed to arrive at the start line with my bags (mostly) in the right place, my bike draped in gels, and my pre-race breakfast…also in the right place. What I had thankfully forgotten is just how traumatic a triathlon swim can be. Firstly, the Danube isn't exactly an inviting place to swim. It's kinda brown, tastes weirdly salty for a river, and I couldn't help thinking back to all the not-so-light industry I'd seen around Bratislava on my way to Samorin. Then there are the elbows and feet. So many elbows and feet, most of them way too close to my head. And the navigation. Why is it so hard to swim in a straight line? Why did I think it was a good idea to turn around 100m too soon?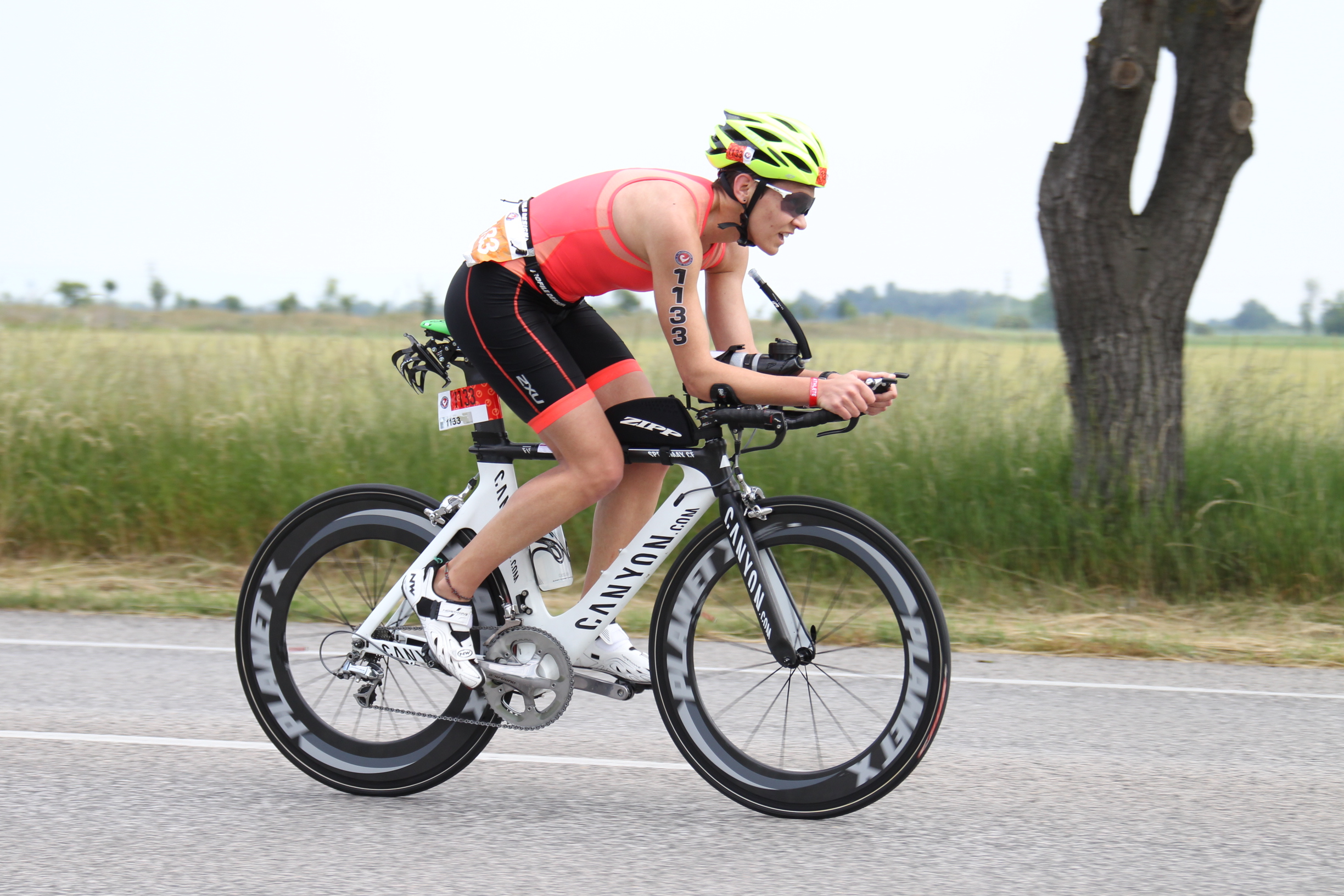 With a 20 m drafting rule in place, the bike should have been much better aligned with my personal space requirements. As something of a newbie to the sport I don't feel quite ready to comment on drafting in the age-group ranks, nor on the resources allocated to draft-busters at such events, but I felt a little too much heavy breathing down my neck during the second half of the bike. Nonetheless, there's no denying that Samorin is a *fast* course - a real 'sit it out in the aero position and PUSH' kinda race.
It turns out I might have emphasised the 'PUSH' a little too much.
By the time I hit T2 the temperature felt in the mid-30s, and I'd only made it through half my hydration and nutrition. The gel I planned to take in transition couldn't have seemed less attractive, so I abandoned it with the thought that 'it's only a half marathon'. Yeah right.
Things started out okay on the run. I did all the 'competitive bits' I needed to in the first couple of kilometres, then turned my focus to keeping the pace steady for the remainder of the race. That turned out to be easier said than done. My Strava of the run leg tells the true story, with each and every kilometre a couple of seconds slower than the last - consistently inconsistent, if nothing else. By the last 2km I was feeling the effects of the heat and the lack of nutrition and the dehydration, and the run had emphatically shifted from my favourite discipline to my least favourite. I don't think I've ever crossed a finish line in such a bad mood, as the charming post-race photos verify!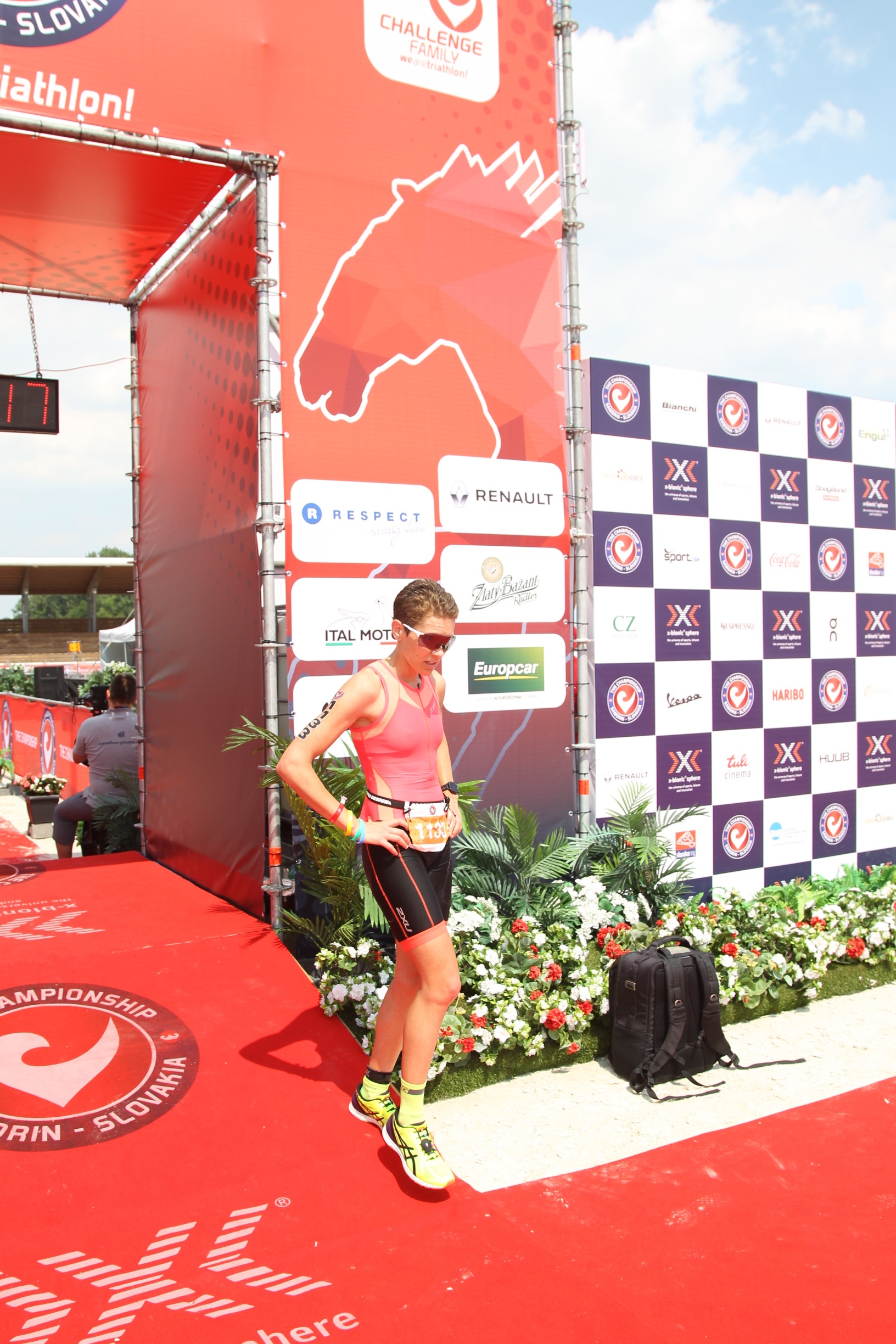 My rookie errors aside, I don't think I've ever been part of a more impeccably organised race. X-Bionic Sphere, the race venue, is an incredible facility, from the hotel to the 50 m pool (and 25 m pool!) to the restaurants to the bike paths - I've never seen something so impressive outside of the Olympics. The crowd was great, and I'm told Challenge delivered a live-stream worthy of a major televised sporting event.
But the best part of the whole weekend was getting back to my hotel room to find a whole string of messages from Wouter (my husband), Will (my coach) and the ONE Triathlon RDS team. It's hard to describe how awesome it feels to find out (albeit retrospectively) that a bunch of people were following our progress and cheering us on from almost 1,500 km away, but you guys are definitely at the top of my thank-you list (along with Kat, Liam and Petra for looking after me in Samorin…and putting up with my novice questions)!
And the results? I'll take first age-grouper and 13th overall, along with a helluva lot of learnings for the next time around. The numbers confirm what I felt on the course - an off-pace swim, a solid bike and a sufferfest of a run. And even though it certainly isn't time to step up to the next level, I'm pretty happy to have met New Zealand Triathlon's pro endorsement criteria for long course racing in my first outing. Onwards and upwards...